January 21, 2016
Winter Storm Jonas Potentially Crippling for Washington DC
The "Blizzard Watch" we reported on this morning has now been upgraded to a "Blizzard Warning" by the United States' National Weather Service. The NWS home page currently warns that:
A potentially crippling winter storm is anticipated for portions of the mid-Atlantic Friday into early Saturday. Snowfall may approach two feet for some locations, including the Baltimore and Washington, DC, metro areas. Farther north, there is uncertainty in snowfall for the New York City-to-Boston corridor. Farther south, significant icing is likely for portions of Kentucky and North Carolina.
The latest update from NWS Washingtom DC states that:
URGENT – WINTER WEATHER MESSAGE
NATIONAL WEATHER SERVICE BALTIMORE MD/WASHINGTON DC
1209 PM EST THU JAN 21 2016

BLIZZARD WARNING IN EFFECT FROM 3 PM FRIDAY TO 6 AM EST SUNDAY.

THE NATIONAL WEATHER SERVICE IN BALTIMORE MD/WASHINGTON HAS ISSUED A BLIZZARD WARNING WHICH IS IN EFFECT FROM 3 PM FRIDAY TO 6 AM EST SUNDAY. THE BLIZZARD WATCH IS NO LONGER IN EFFECT.

* HAZARD TYPES…HEAVY SNOW AND WIND WITH BLOWING AND DRIFTING SNOW FRIDAY AFTERNOON THROUGH SATURDAY NIGHT. SLEET MAY MIX WITH THE SNOW FRIDAY NIGHT INTO SATURDAY MORNING EAST OF INTERSTATE 95 BEFORE CHANGING BACK TO ALL SNOW BY SATURDAY AFTERNOON.

* ACCUMULATIONS…SNOW ACCUMULATION OF 18 TO 24 INCHES IN THE EASTERN SUBURBS OF WASHINGTON DC AND 24 TO 30 INCHES IN THE WESTERN SUBURBS. THE CITY OF WASHINGTON DC IS EXPECTED TO RECEIVE AROUND 24 INCHES.

* TIMING…HEAVY SNOW WILL DEVELOP LATE FRIDAY AFTERNOON AND CONTINUE THROUGH SATURDAY NIGHT. CONDITIONS ARE EXPECTED TO DETERIORATE FRIDAY AFTERNOON WITH THE HEAVIEST SNOW. STRONGEST WINDS…AND POTENTIAL LIFE THREATENING CONDITIONS EXPECTED FRIDAY NIGHT THROUGH SATURDAY.

* IMPACTS…HEAVY SNOW AND BLOWING SNOW WILL CAUSE DANGEROUS CONDITIONS AND WILL BE A THREAT TO LIFE AND PROPERTY. TRAVEL IS EXPECTED TO BE SEVERELY LIMITED IF NOT IMPOSSIBLE DURING THE HEIGHT OF THE STORM FRIDAY NIGHT AND SATURDAY. VISIBILITY WILL BE REDUCED TO NEAR ZERO AT TIMES IN WHITEOUT CONDITIONS.

* WINDS…NORTHEAST 25 TO 35 MPH WITH GUSTS UP TO 50 MPH. BECOMING NORTH SATURDAY.

* TEMPERATURES…MID TO UPPER 20S.

PRECAUTIONARY/PREPAREDNESS ACTIONS…A BLIZZARD WARNING MEANS SEVERE WINTER WEATHER CONDITIONS ARE EXPECTED OR OCCURRING. FALLING AND BLOWING SNOW WITH STRONG WINDS AND POOR VISIBILITIES ARE LIKELY. THIS WILL LEAD TO WHITEOUT CONDITIONS, MAKING TRAVEL EXTREMELY DANGEROUS. DO NOT TRAVEL. IF YOU MUST TRAVEL HAVE A WINTER SURVIVAL KIT WITH YOU. IF YOU GET STRANDED STAY WITH YOUR VEHICLE. PREPARE FOR THE POSSIBILITY OF POWER OUTAGES DURING SNOWY AND COLD CONDITIONS.
Here is the NWS Weather Prediction Center forecast map for tomorrow: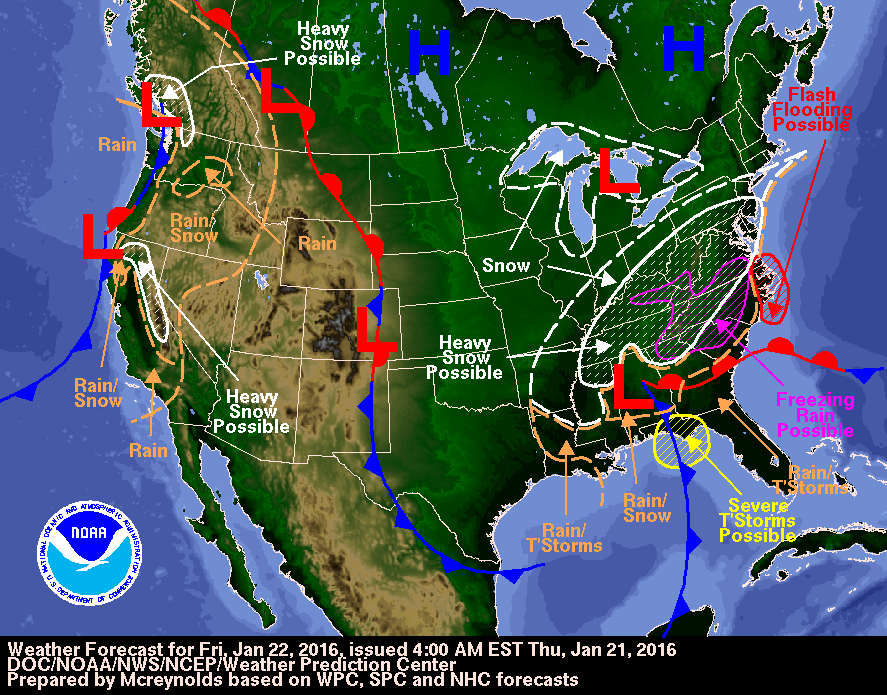 Note that apart from all the snow and freezing rain it forecasts "possible flash flooding" on the east coast.