January 31, 2016
When Henry Met Gertie (and Jonas, and Imogen?)
I was in a series of meetings halfway up a London skyscraper listening to the remnants of Blizzard/Winter Storm Jonas last week, so my news of Storm Gertrude is slightly belated. Before Gertie arrived one of our number had to jump on a train back to the North of England to deal with a personal flooding problem thanks to the amount of precipitation that ex Jonas deposited on the already sodden soil up there. He wasn't the only one affected: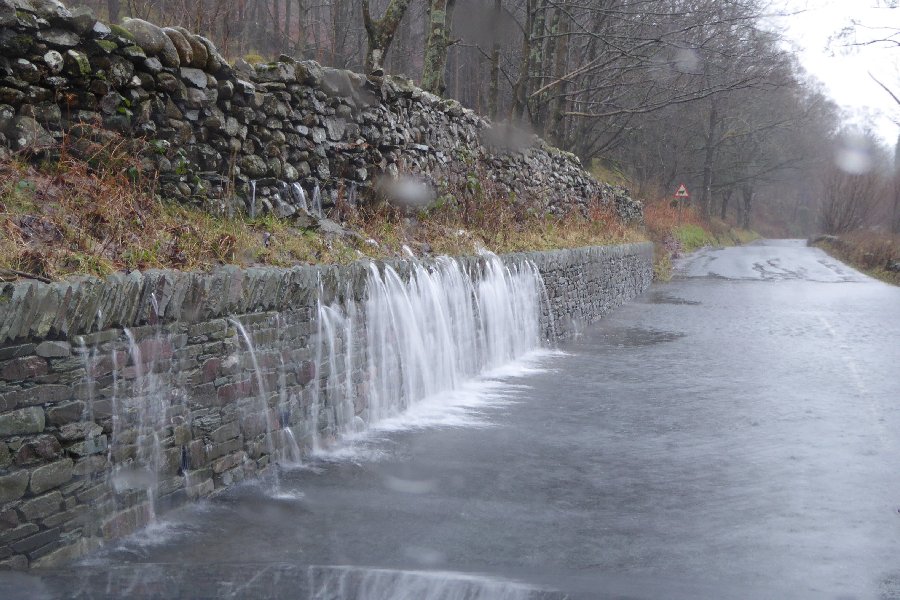 Hot on the heels of Jonas, Storm Gertrude arrived from across the North Atlantic, with the United Kingdom's Met Office helpfully providing some moving pictures to explain that:
Very cold air is spilling southwards out of Arctic Canada and meeting much milder air across parts of the Western Atlantic forming a very strong temperature gradient, and that forces a very strong jet stream which spins these systems up.
The BBC reported on Friday that:
100mph Gales batters UK

Storm Gertrude is sweeping across parts of the UK with winds of more than 100mph causing damage to buildings, travel disruption and power cuts.

In Edinburgh, a man was hospitalised after being struck by flying debris, and a rare Met Office "danger to life" wind warning is in place for Shetland.

At least 4,000 homes are without power in Scotland and Northern Ireland. Trains, flights and ferries have been cancelled and roads and bridges shut.

There are flood warnings across the UK.
Gertrude then continued on towards Scandinavia, where she morphed into "Storm Tor". As "Norway Today" reported yesterday:
The hurricane tore loose ships and roofs

A huge supply vessel under construction was torn loose in the hurricane that ravaged in Sunnmøre Friday night. In Ålesund the hurricane was the cause of flying objects, which made it dangerous to go outside.

It must be one of the largest ships under construction in the country, but because there are no people on board, we will not get involved, the JRCC for southern Norway states to NTB.

The ship is well over 190 meters and has been torn loose and lies across the bay.
Now comes news that the Met Office have officially given the name "Henry" to the next deep low pressure system racing our way, which is due to arrive overnight. Here is their surface level pressure forecast for lunchtime tomorrow: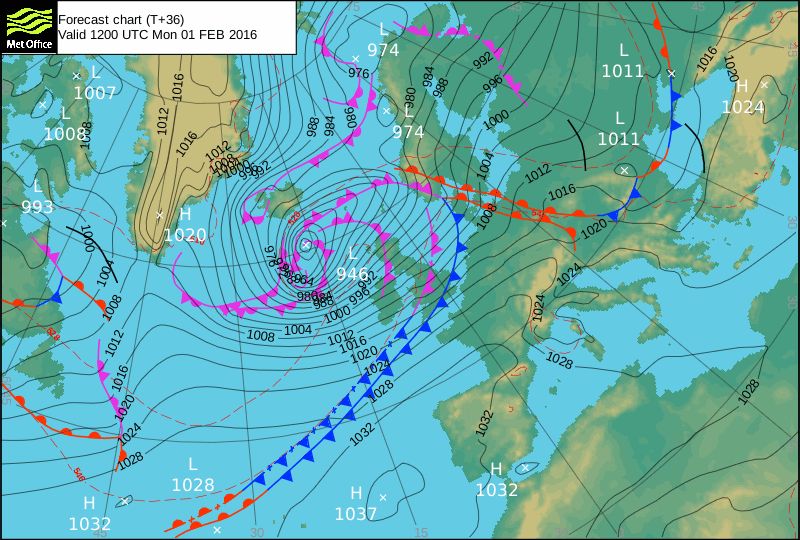 The German climate scientist Stefan Rahmstorf outlined his theory about the reason for the current conveyor belt of strong storms over at "Real Climate":
I will argue that this warmth (as well as the cold blob in the subpolar Atlantic) is partly due to a slowdown of the Atlantic Meridional Overturning Circulation (AMOC), sometimes referred to as the Gulf Stream System, in response to global warming. There are two points to this argument:

(1) The warm sea surface temperatures are not just some short-term anomaly but are part of a long-term observed warming trend, in which ocean temperatures off the US east coast are warming faster than global average temperatures.

(2) Climate models show a "cold blob" in the subpolar Atlantic as well as enhanced warming off the US east coast as a characteristic response pattern to a slowdown of the AMOC.
As if all that wasn't sufficiently wrathful of the gods, here is the Global Forecast System SLP forecast for a week's time, courtesy of MeteoCiel:
A week is a long time in weather forecasting, especially in the North Atlantic just at the moment, but next on the Met Office's list of names for dangerous storms is "Imogen"!
Whilst we wait to discover what swells are sweeping across the North Atlantic next weekend, here is the Magic Seaweed surf forecast for tomorrow: