February 19, 2016
Fiji in the Path of 200 mph Cyclone Winston
Tropical Cyclone Winston has already headed east across the South Pacific past Fiji. Now he has suddenly reversed direction and is heading directly for Fiji where he is expected to arrive as a category 5 storm. Here is the current Joint Typhoon Warning Center forecast track for Winston: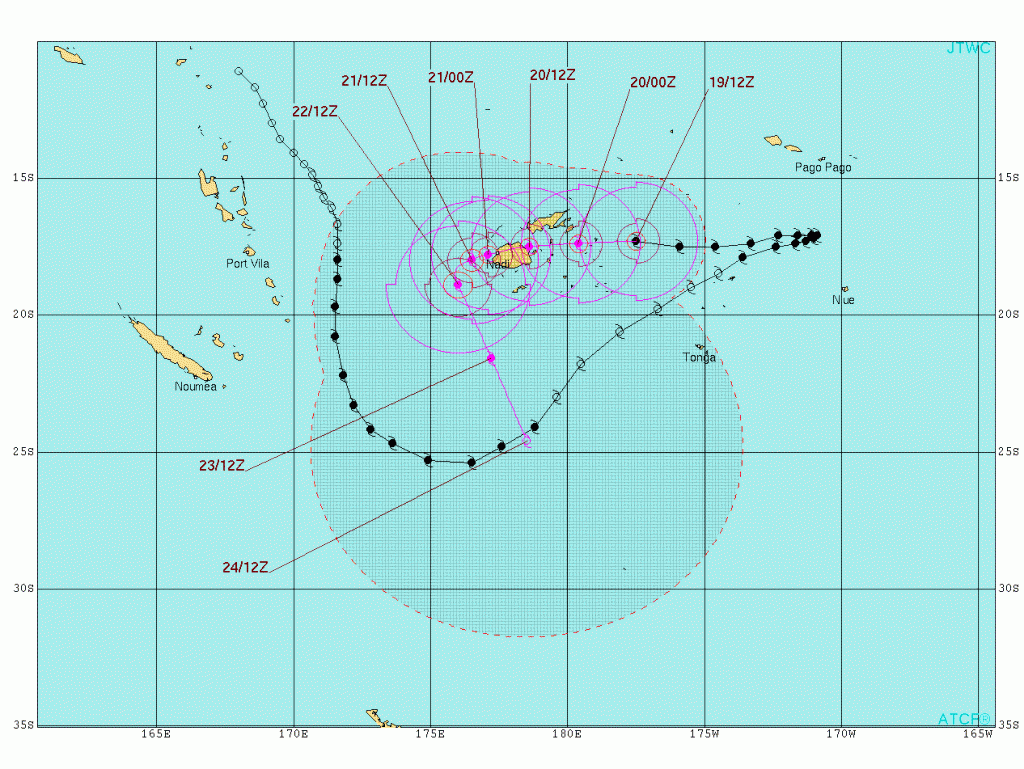 The UK Met Office produced a bulletin about Winston earlier today, which points out that:
The southern hemisphere tropical cyclone season normally runs from November to April and so far this season activity in the South Pacific Ocean has been relatively low. Just two tropical cyclones have formed which have reached the equivalent of hurricane strength – Ula and Victor.

Almost 10 days ago Tropical Storm Winston formed just to the east of Vanuatu in the South Pacific. The storm initially moved southwards passing to the west of Fiji with winds strengthening to more than 100 mph. Winston then started to weaken, but instead of continuing on a track towards higher latitudes, made an unusual turn north-eastwards. Despite weakening to a tropical storm as it did so Winston brought heavy rain to parts of Tonga earlier this week. Having stalled just south of Samoa, Winston then started to restrengthen and made another sharp turn towards the west.

The latest forecast track takes the centre of the cyclone initially across the smaller eastern islands of Fiji and eventually over its largest island of Viti Levu which includes the capital Suva. Winston is likely to maintain its current intensity and bring up to 400mm rain. The combination of strong winds, heavy rain and storm surge are likely to produce damage and destruction to the islands this weekend.
Here's what the latest JTWC bulletin has to say:
WARNING POSITION:
191200Z — NEAR 17.3S 177.5W
MOVEMENT PAST SIX HOURS – 275 DEGREES AT 15 KTS
POSITION ACCURATE TO WITHIN 020 NM
POSITION BASED ON EYE FIXED BY SATELLITE
MAX SUSTAINED WINDS – 125 KT, GUSTS 150 KT

TROPICAL CYCLONE (TC) 11P (WINSTON), LOCATED APPROXIMATELY 239 NM EAST OF SUVA, FIJI, HAS TRACKED WESTWARD AT 15 KNOTS OVER THE PAST SIX HOURS.

THE INITIAL INTENSITY IS ASSESSED AT 125 KNOTS BASED UPON DVORAK CURRENT INTENSITY ESTIMATES OF T6.5 (127 KNOTS) FROM MULTIPLE AGENCIES. UPPER LEVEL ANALYSIS INDICATES A FAVORABLE ENVIRONMENT WITH DUAL CHANNEL OUTFLOW AND WEAK (5 TO 10 KNOTS) VERTICAL WIND SHEAR (VWS).

THE SYSTEM IS CURRENTLY FORECAST TO MAKE LANDFALL ALONG THE EAST COAST OF FIJI AROUND TAU 24, WITH AN INTENSITY BETWEEN 125 AND 130 KNOTS. AFTER TAU 24, THE SYSTEM WILL BEGIN TO WEAKEN DUE TO LAND INTERACTIONS.
Here's how Winston looked from the Suomi satellite yesterday: