February 14, 2016
Show The Love for Haiti
It's February 14th today, better known as Saint Valentine's Day. Much like last year the Great British nation is currently being exhorted to #ShowTheLove for the environment. Here what David Cameron pledged exactly one year ago today:
To seek a fair, strong, legally binding, global climate deal which limits temperature rises to below 2°C.
To work together, across party lines, to agree [UK] carbon budgets", which are required by law but which caused serious cabinet clashes in 2011.
To accelerate the transition to a competitive, energy-efficient low-carbon economy and to end the use of unabated coal for power generation.
Has any of that happened? If so I must have blinked and missed it!
Here is the 2016 Valentine's Day #ShowTheLove video from The Climate Coalition:
You will note that at approx. 1 minute 25 seconds Jeremy Irons says that:
One day Mia, if we don't care for it, this good Earth of ours will be as arid and lifeless as the moon. Have you ever seen a picture of Earth from Space?
However #GlobalWarming is not quite that simple. Here's a picture of Hispaniola from space on February 11th 2016: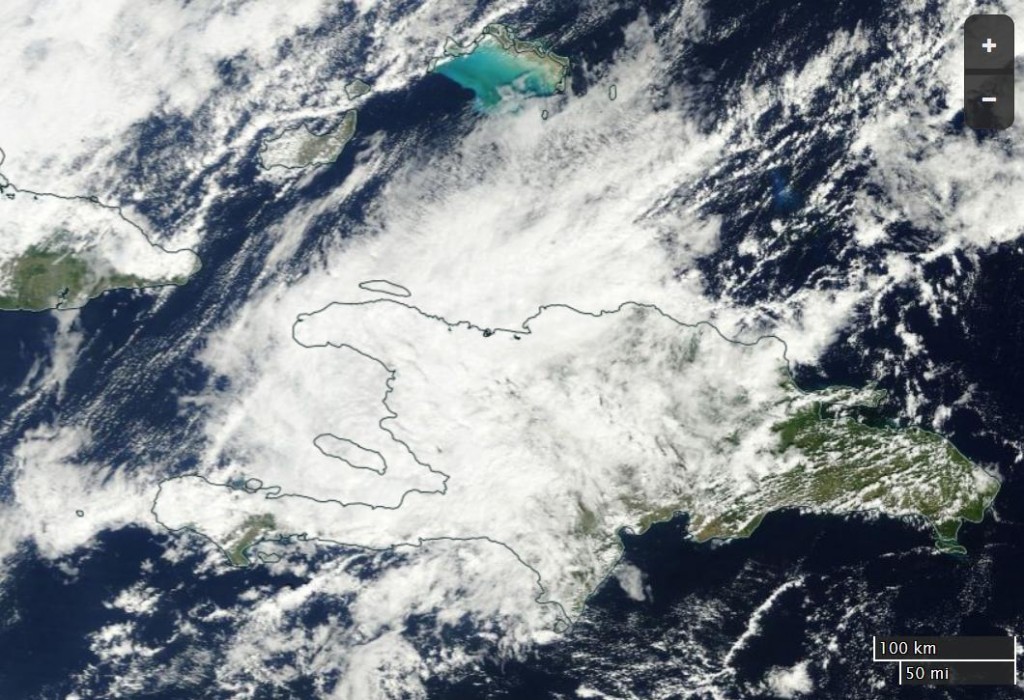 FloodList reports that:
Heavy rain affected the northern part of the Caribbean island of Hispaniola between 09 and 11 February 2016, resulting in flooding in parts of both Dominican Republic and Haiti.

After a long period of intense drought, Puerto Plata Province on the northern coast of Dominican Republic saw 216 mm of rain in 24 hours in Puerto Plata station, between 10 and 11 February 2016.

According to local media, the San Marcos River and the Camú River overflowed, causing flooding in the municipalities of Puerto Plata, Montellano and Villa Isabela. Several houses are reported to be affected by local inundations in La Sabana, Las Cruces de Martín Alonso, Tasajera, Estrecho Abajo, El Estrecho, Ranchito de los Vargas communities.

The northern coast of Haiti has also been affected by heavy and prolonged rainfall which occurred between 9 to 11 February 2016.

Major cities including Port-de-Paix and Cap-Haïtien have been affected by the severe weather and more than 200 houses have been damaged, forcing families to leave their home. Several neighbourhoods of Cap-Haïtien, including Carénage, Cité Lescot, Sainte Philomène and Charrier, suffered flooding on the 11 February.

Flooding blocked roads and caused traffic problems. The heavy rain also caused a mudslide which blocked the main road in the district of Bel-Air, according to local media.

With wide areas of standing water, contaminated flood water and streets littered with waste and garbage, focus has turned to health concerns. Haiti public health authorities have called for people to be aware of the threat of the spread of cholera and other water-borne diseases, and to take necessary preventative measures in flood-affected areas of Cap-Haïtien and Port-de-Paix.
Inondation : La ville du Cap Haïtien sous les eaux! https://t.co/DwIN66ZHs3 pic.twitter.com/KXMRx5HegT

— Rezo Nouvèl (D. A.) (@aladanel) February 12, 2016
In other recent news, this time about the drought in Haiti, the United Nations World Food Program said on February 9th that:
Haiti's third consecutive year of drought, exacerbated by the global El Niño weather phenomenon, has driven people deeper into poverty and hunger, and doubled the severely food-insecure population, the United Nations World Food Programme (WFP) said today.

Some 3.6 million Haitians are facing food insecurity, among them more than 1.5 million people who are severely food insecure. This is a key finding from an emergency food security assessment conducted by WFP, the UN Food and Agriculture Organization (FAO) and National Food Security Coordination.

The main harvest in 2015 fell below average, with losses of up to 70 per cent in some areas. This is severely threatening food security in Haiti, where agriculture employs half of the working population and 75 per cent of people live on less than $2 per day.

In addition, the current El Niño phenomenon, which began in early 2015, is one of the strongest on record and is affecting the food security of vulnerable people around the globe, including in Haiti.

In some areas of the country, up to 70 per cent of the population is facing hunger and a recent study conducted by the UN Children's Fund (UNICEF) and the Government of Haiti revealed that malnutrition rates are above emergency levels in several communes.
Wendy Bigham, WFP's Deputy Country Director in Haiti, said in a news release that:
Without rain for the 2016 spring season, farmers will lose their fourth consecutive harvest on which they normally depend to feed their families. We need to help them meet their immediate needs and help build up their resilience.