March 8, 2016
Haldon Forest Park Closes Again
This morning the Met Office issued yet another severe weather warning for South West England. Here's their map for tomorrow: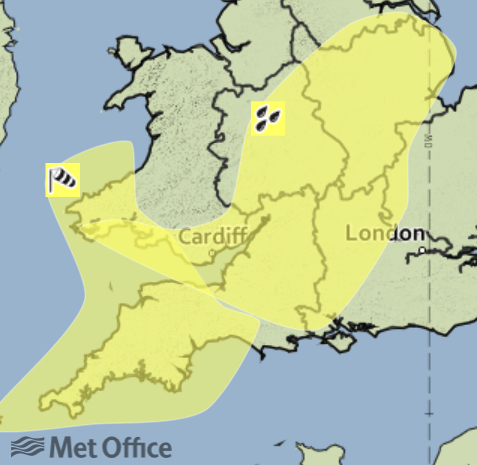 The worst of the rain will be north-east of here, but regarding the winds the Met Office have this to say:
Widespread gales, and severe gales in more exposed areas, are expected to develop during the early hours of Wednesday bringing gusts of 50-60 mph to some inland areas and gusts to 70 mph to some coastal areas and higher ground. The winds will slowly ease during the afternoon. Combined with heavy rain these high winds are likely to produce some difficult driving conditions.

Please be aware of the risk of disruption to transport and possible disruption to power supplies, as well as high waves overtopping some coastal routes.
The "Chief Forecaster's assessment" adds that:
In spite of the exact track and intensity of this depression remaining subject to a little uncertainty, a period of very windy weather is on the cards for Wednesday early hours and morning.
Here's the Global Forecast System's prediction for wind gusts tomorrow morning, courtesy of MeteoCiel: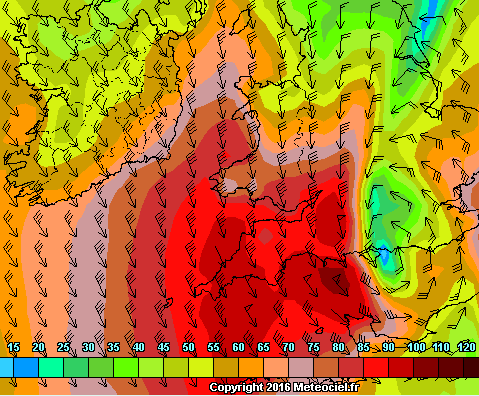 Thus far the Met Office haven't decided that the forecast winds are sufficiently strong to give this latest storm the official name of "Storm Katie". However given the forecast severe weather I cycled up to the top of Haldon Hill this afternoon to talk to the rangers at the Haldon Forest Park. Sure enough they told me that the park will be closed tomorrow. Things should be back to normal up there by Thursday, assuming that there aren't too many fallen trees to clear from the paths and bike trails.