July 6, 2008
New Smart Diesel is the World's Most Economical Car
In this weekend's Daily Telegraph Andrew English reviews three new variants of the Smart fortwo that are even more economical that the standard Smart car. The petrol version of the Smart fortwo, the 2 seater car produced by the Mercedes Benz subsidiary, has long been one of the World's most frugal. It managed 60.1 mpg whilst emitting just 112 grammes of carbon dioxide on the EU combined cycle. The figures for the same model from the United States Environmental Protection Agency are 33 mpg in the city and 41 mpg on the highway.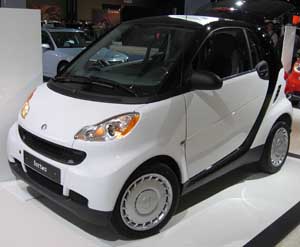 Smart have recently announced that a new diesel engine will be available in the UK from January 2009. Smart claim the 799cc three-cylinder engine is the world's smallest direct-injection diesel. They say a fortwo fitted with the new engine achieves a staggering 85.6 mpg and 88 g/km on the EU Combined cycle, the lowest carbon dioxide emissions of any production car.
The Telegraph also takes a look at Smart's new "micro hybrid drive". This will be fitted as standard on petrol models from October, but bears no resemblance to most people's idea of a hybrid. Rather than having both petrol and electric power the Smart only has a petrol engine. The new system actually employs a "stop/start" mechanism, and merely turns the engine off when you brake to below 5 mph, allowing the car to coast to a stop. Once you release the brake the engine starts again. Mercedes say this results in an 8% improvement on fuel consumption on the EU Combined cycle, rising to as much as 19% in city driving. Essentially the car is doing some EcoDriving for you!
Andrew waxes lyrical about the potential effect of this technology on the inner city environment, and I can't resist repeating his quotation from William Wordsworth's poem "Upon Westminster Bridge":
This City now doth, like a garment, wear
The beauty of the morning; silent, bare
Ships, towers, domes, theatres, and temples lie
Open unto the fields, and to the sky;
All bright and glittering in the smokeless air
Finally the Telegraph gives details of the trial currently under way in the UK of around 100 electric Smart cars. These are actually built by Zytec in Staffordshire and use a high-temperature, natrium-nickel-chloride battery unit made by MES-DEA of Switzerland. The top speed of the electric Smart is 75 mph, and the typical range in everyday use is about 50 miles. This can be extended to around 70 miles using EcoDriving techniques. If your organisation would like to test drive an electric Smart you can apply to Mercedes-Benz in Milton Keynes. Leasing costs are currently £380 per month, which includes the electricity used to charge the car.